Mwesigye Robert and the youth he works with at Rejoice Africa Foundation, an organization fully certified by the Government of Uganda, are on a mission. They understand that change happens bottom up, by maximizing ecosocial investment in each child. And unlike many organizations that ignore the role of family planning reforms, they support the idea that family planning should be just and sustainable, with redistribution of wealth to ensure every child an ecosocial fair start in life.
Embracing that as the first and overriding human right has the greatest impact in moving us towards sustainable development goals.
Mwesigye Robert had this to say about some of their work:
I and my organization managed to do a sanitation and hygiene project plot in our local communities in Uganda . We aimed to end plastic pollution, and supplement scarce drinking water supplies, and provide reproductive hygiene for girls in schools . We constructed one rain water reservoir tank using plastic bottles collected by school children from the communities. Improving girls' reproductive hygiene can help girls to grow well without reproductive health diseases, while ending plastic pollution ensures a healthy environment for girls while also helping to heal land degradation and reducing breeding areas for malaria-bearing mosquitos. These can be important in the fight for children to get an ecosocial fair start in life.
Here are a few photos of the project:
At Fair Start we envision a world of truly democratic communities surrounded by nature. They are constituted of free and equal people, each person has a meaningful role in making the rules under which they live, and each was empowered by the conditions in which they were born and raised.
That is what true freedom and legitimate governance – for all – looks like. That vision reflects our most fundamental and objective values: Wellbeing, Equity, Nature, Democracy, and Improving Continuity. That vision can only be achieved by changing the way we plan families, and by constituting future generations around a Fair Start first principle, or grundnorm, of relative self-determination. We may liberate those in this vision, the free entities of the future, from the tyranny of prior generations by all means effective.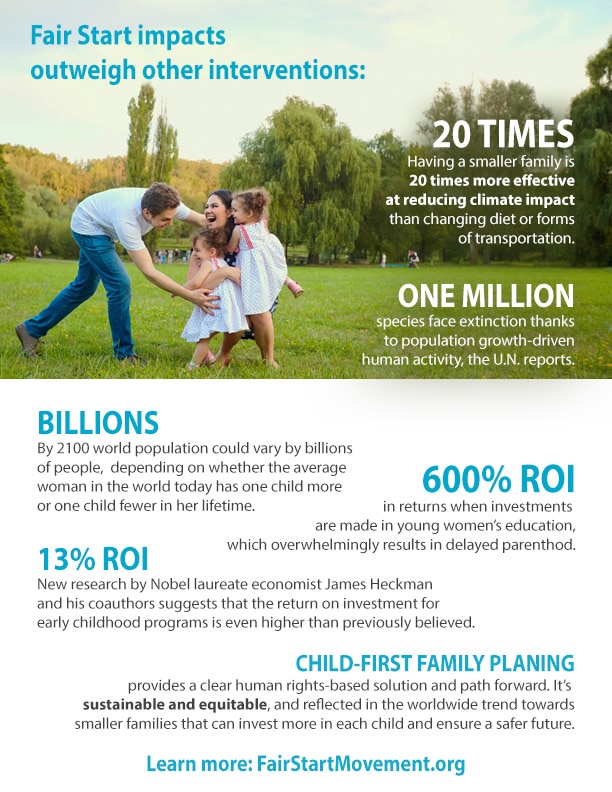 Take action:
Urge Natalia Kanem, head of the UNFPA, @Atayeshe as well as the Partners in Population and Development (PPD) to embrace Fair Start as the first and overriding human right, and the basis for all family planning policy. Contact PPD at: CONTACT SECRETARIAT | PPD (partners-popdev.org)
Fair Start supports Rejoice's efforts, part of which will include pilot Fair Start programming:
To give:
Fundraising for Reforesting and Upping children's voices in Uganda
Funds needed: $25000USD
Rejoice Africa is a youth led organization , community based organization operating in the republic of Uganda . It was founded in 2017 by 25 compassionate Youths with the spirit to save the next generations .
What we do ;
Climate adaptation and mitigation through Reforestation , Afforestation , Agroforestry , ecosystem and climate awareness in schools .
Poverty alleviation through supporting bee keeping and Rabbit keeping.
Sanitation and hygiene through reproductive health , domestic hygiene and community hygiene.
Why Reforesting and Upping children's voices in
South western Uganda is affected by harsh climate changes ( long term droughts in the year ) caused by human environmental destructive activities (cutting down trees for firewood , clearing land for Agriculture , charcoal burning ) which has affected food security and increased malnutrition cases in the region . People in south western Uganda are not well versed with skills of climate mitigation and adaptation .
Activities.
1; planting 1000000 tree seedlings of eucalyptus , pines , mangoes and avocados on the bare lands of the registered smallholders farmers .
2; climate education in schools to collect voiceses of school children and communities about climate changes and ways of restoration of climate changes . This will be achieved through climate songs, poems , storytelling and skits .
Need for donations of $25000USD
We want to purchase 1000000 seedlings .
We want to purchase garden tools (hoes, watering cans , scissors )
Learning materials (flip-charts , fliers, burners , books )
Transport of the materials .
Continue amplifying children's voices from school , community on the fair start in environmental friendly activities.
Construction of water tanks using plastic bottles from the community .
30% of the raised funds will be used to do a plot project of Ecosocial in Uganda .
How your donation will be distributed .
30% of the funds will go to do a plot project of the Fair start Movement .
35% reforesting project
25% Upping the Children's Voices
10% administration .
And $25000USD is the budget for the whole year 2022(12 months )
WISE TRANSFER .
Sender/donor
He/she needs to have WISE Transfer account , you can click on the following link : https://wise.com/invite/a/mwesigyer
After you click on send and follow the procedure .
You can send the funds in your currency .
RECEIVER Address .
Name : Mwesigye Robert
Country : Uganda
Email: robertmwesigye1990@gmail.com
You will be able to see this profile account 👉
Thank you very much for the solidarity in supporting Rejoice in 2022.
Rejoice did climate event in schools as more information on the following link 🖇️ https://youtu.be/p0S11-2hgaw
Photos of the organization below:
Caring tree seedlings to the field .
Construction of water tank using plastic bottles from communities.
The above photos are school children.